NONE AVAILABLE AT THIS TIME-as of 2/01/2016 (except 50 BMG and 6PPC)
If you are looking for cheap this is the wrong place! If you are in a hurry this is the wrong place!
We are pleased to still offer our REAL "BENCHREST" prepared new brass cases (commonly called brass). Benchrest prepared is not just a "word", "claim", or "come on", they are really fully BENCHREST PREPARED!
Brass cases are not always in stock and at times hard to get but, we list them all here for your review. Prices may change without notice. If you do not see a brass case size or brand you need call us. We generally do not work with nickel coated brass cases.
We have in stock or have available to us the following new brass case brands:
| | | | |
| --- | --- | --- | --- |
| a. Remington | e. RWS | i. Hornady | m. Weatherby |
| b. Winchester | f. Bell | j. Jamison | n. Lazzeroni |
| c. Norma | g. Graf | k. Bertram | o. Jarrett |
| d. Lapua | h. Horneber | l. Starline | p. Magtech |
| | | | q. Tubb |
These are NEW cases and the BASIC service includes the following:
1. A very very high polish
2. Resized and straightened
3. Trimmed to length (if required)
4. Special inside low drag neck chamfer- an Arizona Ammunition exclusive design!
5. Outside neck chamfer
6. Primer pocket squared and recut
7. Placed in a custom hard plastic box to protect them.
8. All specification of our work will be included with the box.
The greatest care is taken in the preparation of a "benchrest prepared" brass case. We use new brass cases that are inspected prior to the work. We trim to SAMMI specified length or the customers requested length. The flash hole is deburred, a critical process that will make a great difference in the performance of the ammunition once loaded. We recut and square the primer pocket to insure that the primer seats properly and there is a uniform ignition when the primer is struck. No material is removed from the side of the primer pocket hole.
We debur the flash hole another critical process to insure proper and uniform ignition. We take special care to insure that the deburring process does not go too deep and weaken the case. We use a special inside very low drag chamfer system that reduces the damage to the bullet when seating. It also helps those who use coated bullets because it reduces the removal of the coating upon seating the bullet. This chamfer will give a uniform bullet release for improves accuracy.
Important to the process is the straightening of the case neck to insure proper runout. All cases are full length resized and inspected.
Based on the customers needs, the brass case necks can turned to a consistent thickness. The purpose of this is to have a uniform or consistent bullet grip and neck tension. This provides for a consistent bullet release. It also helps in tight neck chambers. All work is performed on a lathe with top quality cutting equipment. Each case is measured with a high quality tubing micrometer. Tolerances are held as tight as the quality of the cases will allow.
Finally we put a high polish on each case and then individually box them in a high quality box with the specification of the case preparation on the box label..
On request we will fire form cases for the customer-it is expensive though. See price list.
On wildcat brass cases we will form, anneal, and completely process the case and provide the best custom cases available. This process is slow and very precise, please do not be in a rush when ordering this service. If you do not see what you want, just ask. See our Wildcat brass case list (Click Here)
We offer many different services and all may not be reflected here. There is little we will not do. Remember that this is not an inexpensive process because it is labor intensive.
ADDITIONAL SERVICES:
Turned Necks: We will turn the necks to your specifications of do just a general clean up on them and make them true. We use the highest quality equipment and tools for these services. Each case is then checked with a micrometer to be sure it is exact.

Weighed and Matched: We will weigh and match the brass cases to a level (grains) that you request or with in a reasonable match weight depending on the case. We use the highest quality scales that are re-calibrated on a regular schedule.

Check Run Out: This is an exclusive service and very time consuming. Each case will be placed on a machine and tested to insure that it is spinning true. If not, we will correct it or discard it. Our goal is a perfectly true straight case. We include bullets here using our Vern Jenke bullet run out machine.

Fire Form: This service to be performed on all types of cases may require your rifle being sent to us. We will then fire form the case and fully clean it up. It will then be perfectly matched to your rifle and it s chamber. Your rifle will be fully cleaned too. This price does not include the cost of shipping the rifle.
Weigh and Match primers- This is mainly for 50 BMG shooters. The last Buddy Clifton, three time 50 BMG World Champion proved to us that weighing and matching the large 50 BMG primer makes a difference in accuracy.
Chamfer Primer Pocket- This is mainly for the 50 BMG shooters. It is very necessary to chamfer the mouth of the large primer pocket to help get the large primer started and properly seated. In military cases the chamfer is necessary to remove the "crimp ring" so it does not interfere with the seating of the large primer.
ANNEAL Cases- There are many methods to properly ANNEAL brass cases and it is worth while. World Champion 50 BMG shooter Dale Aerinto anneals his competition cases after EACH firing. He continues to win too.
Realign Flash Hole- This is a new procedure that accuracy shooters have started doing that makes sure the flash hole is exactly in the middle of the primer pocket so that when the primer fires it sends the flash exactly in the middle of the gun powder. The goal is for consistency in the ignition of the gun powder.
Weigh and match bullets- This process has proven to increase accuracy time and time again. We will match according to your specifications or ours on a + plus or - minus system. Each different bullet style, brand, and even caliber can have its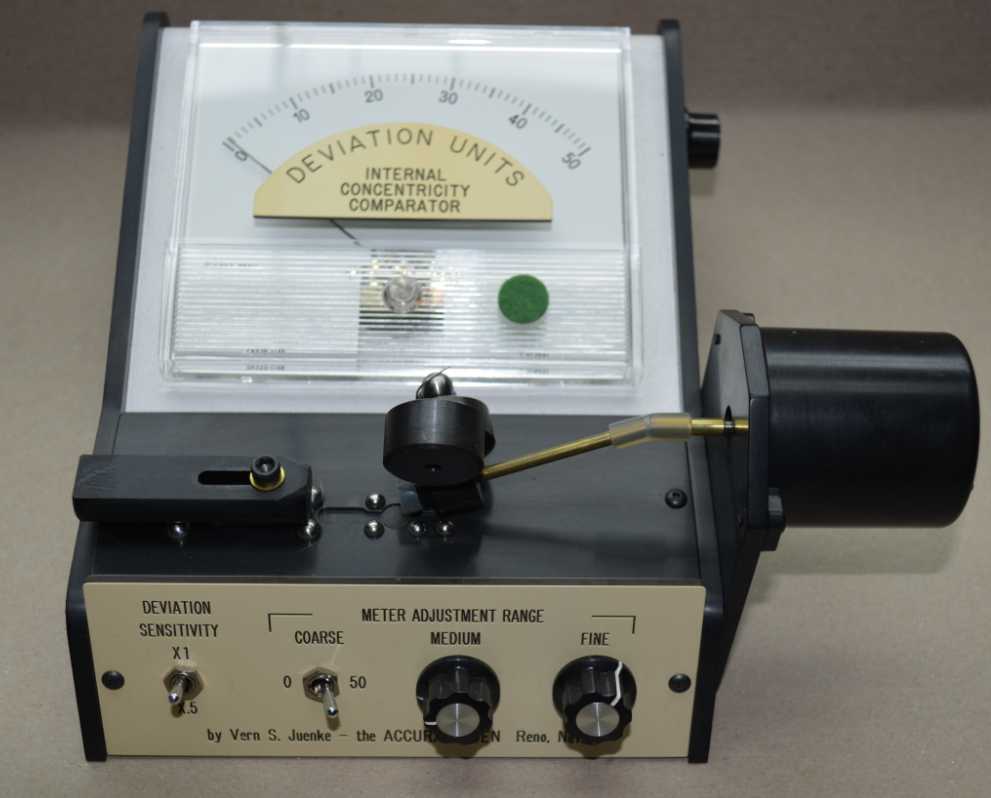 on acceptable plus and minus.
High polish- Our high polish system cleans and then polishes the brass case to a shine where you can nearly see yourself in it. The system cleans every part of the case; inside, out side, and primer pocket. Then it puts an incredible shine on it! We can take the nastiest looking brass case and make it look new.
Debur the flash hole- On brass cases that have a punched flash hole there is a rather large bur left on the inside of the brass case. This bur can go all the way around the hole too and it will actually direct the flash to one side or the other. This alteration of the flash direction can effect the over all ignition of the powder and thus effecting accuracy. By removing the bur it makes the flash more consistent when it flashes.
YOUR BRASS CASES AND BULLETS;
6PPC- The most commonly asked for custom brass case is the 6PPC made from Lapua 220 Russian brass cases. To make it easy for that inquiry the case work and cost is as follows; We use new Lapua 220 Russian brass cases die formed (not fire formed) to 6PPC. They are trimmed to a uniformed lenght, the primer pocket is uniformed, the flash hole is deburred on the inside , the case mouth is chamfered on the outside and inside the mouth with a special low drag chamfer. The neck is outside neck turned to a thickness you request. Most common is .262 neck. The brass case is resized and straightened then receives a very high polish and boxed in a high quality plastic box with individual holes for each custom brass case. Weighted and match is not included in this cost. For your budget these are $3.60 each not including shipping.
We will perform all these service on your brass cases or bullets. The individual cost will be;
NONE AVAILABLE AT THIS TIME-as of 2/01/2016 (except 50 BMG and 6PPC)
Service

Price

1. Resize -NEW brass cases (full

length

or neck only)

$0.10 each

2. Trim to

length (some new brass cases are shorter than SAMMI Specifications and can not be trimmed.)

$0.15 each

3. Chamfer/debur neck (inside and out with low drag inside chamfer)

$0.05 each

4. Chamfer Primer Pocket (50 BMG only)

$0.10 each

5. Polish-very high shine-

our system cleans the inside of the case too.

$0.05 each

6. Weigh and Match ( your specifications)

$1.00 each

7. Weigh and Match (our specifications)

$0.75 each

6. Fire Form brass cases

(we load the ammunition and fire in customers rifle)

$0.75 each

7. Check run out-on brass cases

$0.05 each

8. Debur inside flash hole-

$0.05 each

9. Realign flash hole-

$0.05 each

10. Full service package -


(necks turnes, sized, trimmed, neck chamfer, debur, recut primer pocket)

$1.10 each

11. Turn necks - to customer specifications




$1.00 each

12. Turn necks - to our specifications

$0.75 each

13. Anneal cases

$0.10 each

14. Resize fired brass cases -


full length or neck only and decap

$0.25 each

15. Runout on bullets - (no sorting)

$0.05 each

16. Runout on Bullets - sorted

$0.15 each

17. Weigh and matches bullets -

$0.15 each


18. Weigh and match primers -

$0.15 each

19. Fire form brass cases - already loaded ammunition

$0.25 each

20. Adjust Meplat of bullet - basically made them uniform

$0.05 each
If you do not see a service on brass cases or bullets you need just contact us and ask!
OUR REAL BENCHREST PREPARED BRASS CASES READY TO USE;. You can buy ours ready to go too. See below for our individual brass case price and service options (prices subject to change without notice);
NONE AVAILABLE AT THIS TIME-as of 2/01/2016 (except 50 BMG and 6PPC)
NOT A COMPLETE LIST- ASK FOR YOUR SPECIFIC BRASS CASE.
CALIBER
BRAND
BENCHREST
PREPPED
(Not Neck Turned)
WITH
NECKS
TURNED
TOTAL
WEIGHTED
& MATCHED
TOTAL
CHECK RUN
OUT ON EACH
CASE ADD
FULL
SERVICE
TOTAL
FIRE
FORMED
EACH ADD
1
17 Rem
Rem
$0.71
$1.31
$2.31
$0.05
$2.36
$1.00
2

17 Rem Fireball

Rem
$0.65
$1.25
$2.25
$0.05
$2.30
$1.00
3

218 Bee

Win
$0.53
$1.13
$2.13
$0.05
$2.18
$1.00
4

22 Hornet

Rem
$0.18
$0.78
$1.78
$0.05
$1.83
$1.00
5

22 Hornet

Win
$0.33
$0.93
$1.93
$0.05
$1.98
$1.00
6

204 Ruger

Rem
$0.42
$1.02
$2.02
$0.05
$2.07
$1.00
7

204 Ruger

Win
$0.35
$0.95
$1.95
$0.05
$2.00
$1.00
8

204 Ruger

NORMA
$1.54
$2.14
$3.14
$0.05
$3.19
$1.00
9

222 Mag

Rem
$0.60
$1.20
$2.20
$0.05
$2.25
$1.00
10

22 PPC

NORMA
CALL
$0.60
$1.60
$0.05
$1.65
$1.00
11

220 Russian

LAPUA
$1.38
$1.98
$2.98
$0.05
$3.03
$1.00
12

223 REM

LAPUA
$0.87
$1.47
$2.47
$0.05
$2.52
$1.00
13

223 REM

Rem
$0.42
$1.02
$2.02
$0.05
$2.07
$1.00
14

223 REM

NORMA
$1.73
$2.33
$3.33
$0.05
$3.38
$1.00
15

223

Win
$0.35
$0.95
$1.95
$0.05
$2.00
$1.00
16

223 WSSM

Win
$0.82
$1.42
$2.42
$0.05
$2.47
$1.00
17

222

Rem
$0.44
$1.04
$2.04
$0.05
$2.09
$1.00
18

222 MATCH

LAPUA
$0.87
$1.47
$2.47
$0.05
$2.52
$1.00
19

222

NORMA
CALL
$0.60
$1.60
$0.05
$1.65
$1.00
20

222

Win
$0.41
$1.01
$2.01
$0.05
$2.06
$1.00
21

22-250

Rem
$0.60
$1.20
$2.20
$0.05
$2.25
$1.00
22

22-250

NORMA
$1.73
$2.33
$3.33
$0.05
$3.38
$1.00
23

22-250

Win
$0.56
$1.16
$2.16
$0.05
$2.21
$1.00
24

220 Swift

Rem
$0.70
$1.30
$2.30
$0.05
$2.35
$1.00
25

220 Swift

NORMA
$1.01
$1.61
$2.61
$0.05
$2.66
$1.00
26

220 Swift

Win
$0.64
$1.24
$2.24
$0.05
$2.29
$1.00
27

243 win

Rem
$0.63
$1.23
$2.23
$0.05
$2.28
$1.00
28

243 win

LAPUA
$1.42
$2.02
$3.02
$0.05
$3.07
$1.00
29

243 WIN

NORMA
$1.27
$1.87
$2.87
$0.05
$2.92
$1.00
30

243 wi

Win
$0.60
$1.20
$2.20
$0.05
$2.25
$1.00
31

224 Wby Mag

LAPUA
CALL
$0.60
$1.60
$0.05
$1.65
$1.00
32

240 Wby Mag

NORMA
$2.15
$2.75
$3.75
$0.05
$3.80
$1.00
33

250 Savage

Rem
$0.68
$1.28
$2.28
$0.05
$2.33
$1.00
34

250 Savage

Win
$0.78
$1.38
$2.38
$0.05
$2.43
$1.00
35

25-20

Win
$0.40
$1.00
$2.00
$0.05
$2.05
$1.00
36

6 BR

Rem
$1.11
$1.71
$2.71
$0.05
$2.76
$1.00
37

6 BR

LAPUA
$1.28
$1.88
$2.88
$0.05
$2.93
$1.00
38

6 BR

NORMA
$1.35
$1.95
$2.95
$0.05
$3.00
$1.00
39

6PPC

LAPUA
CALL
$0.60
$1.60
$0.05
$1.65
$1.00
40

6 PPC

NORMA
$1.35
$1.95
$2.95
$0.05
$3.00
$1.00
41

6-284

Win
CALL
$0.60
$1.60
$0.05
$1.65
$1.00
42

6mm Rem

Rem
$0.63
$1.23
$2.23
$0.05
$2.28
$1.00
43

6mm Rem

Win
$0.60
$1.20
$2.20
$0.05
$2.25
$1.00
44

6.8mm Rem SPC

Rem
$0.67
$1.27
$2.27
$0.05
$2.32
$1.00
45

6.5-284

Win
CALL
$0.60
$1.60
$0.05
$1.65
$1.00
46

6.5X284

LAPUA
$1.44
$2.04
$3.04
$0.05
$3.09
$1.00
47

6.5X284

NORMA
$1.55
$2.15
$3.15
$0.05
$3.20
$1.00
48

6.5X52 CARCANO

NORMA
$1.82
$2.42
$3.42
$0.05
$3.47
$1.00
49

6.5x54 MS

LAPUA
$1.17
$1.77
$2.77
$0.05
$2.82
$1.00
50

6.5X54 MS

NORMA
$1.27
$1.87
$2.87
$0.05
$2.92
$1.00
51

6.5 Rem Mag

Rem
$0.92
$1.52
$2.52
$0.05
$2.57
$1.00
52

6.5x55 Swed. Mauser

Win
$0.67
$1.27
$2.27
$0.05
$2.32
$1.00
53

6.5X55 Swede. Mauser

NORMA
$1.27
$1.87
$2.87
$0.05
$2.92
$1.00
54

257

Rem
$0.70
$1.30
$2.30
$0.05
$2.35
$1.00
55

257 WBy Mag

NORMA
$2.15
$2.75
$3.75
$0.05
$3.80
$1.00
56

257 Roberts

Rem
$0.70
$1.30
$2.30
$0.05
$2.35
$1.00
57

257 Roberts + P

Win
$0.66
$1.26
$2.26
$0.05
$2.31
$1.00
58

25-06 Rem

Rem
$0.78
$1.38
$2.38
$0.05
$2.43
$1.00
59

25-06 Rem

Win
$0.71
$1.31
$2.31
$0.05
$2.36
$1.00
60

25-06 REM

NORMA
$1.54
$2.14
$3.14
$0.05
$3.19
$1.00
61

25 WSSM

Win
$0.82
$1.42
$2.42
$0.05
$2.47
$1.00
62

260

Rem
$0.73
$1.33
$2.33
$0.05
$2.38
$1.00
63

264 Win Mag

Rem
$1.33
$1.93
$2.93
$0.05
$2.98
$1.00
64

264 Win

Win
$0.98
$1.58
$2.58
$0.05
$2.63
$1.00
65

270 Win

Rem
$0.65
$1.25
$2.25
$0.05
$2.30
$1.00
66

270 Win

LAPUA
CALL
$0.60
$1.60
$0.05
$1.65
$1.00
67

270 Win

Win
$0.61
$1.21
$2.21
$0.05
$2.26
$1.00
68

270 Win

NORMA
$1.66
$2.26
$3.26
$0.05
$3.31
$1.00
69

270 WBy Mag

NORMA
$2.28
$2.88
$3.88
$0.05
$3.93
$1.00
70

270 Win Short Mag

Win
$0.82
$1.42
$2.42
$0.05
$2.47
$1.00
71

270 WSM

NORMA
$1.75
$2.35
$3.35
$0.05
$3.40
$1.00
72

7mm WSM

Win
$0.86
$1.46
$2.46
$0.05
$2.51
$1.00
73

7mm-08

Rem
$0.72
$1.32
$2.32
$0.05
$2.37
$1.00
74

7mm-08

Win
$0.64
$1.24
$2.24
$0.05
$2.29
$1.00
75

7MM-08

NORMA
$1.40
$2.00
$3.00
$0.05
$3.05
$1.00
76

280 REM

Rem
$0.74
$1.34
$2.34
$0.05
$2.39
$1.00
77

280 REM

NORMA
$1.75
$2.35
$3.35
$0.05
$3.40
$1.00
78

284

Win
$1.24
$1.84
$2.84
$0.05
$2.89
$1.00
79

7BR

Rem
$1.03
$1.63
$2.63
$0.05
$2.68
$1.00
80

7mm Mauser

Rem
$0.77
$1.37
$2.37
$0.05
$2.42
$1.00
81

7mm Rem SA
Ultra Mag

Rem
$0.99
$1.59
$2.59
$0.05
$2.64
$1.00
82

7mmMag

Rem
$0.92
$1.52
$2.52
$0.05
$2.57
$1.00
83

7mm Mag

Win
$0.86
$1.46
$2.46
$0.05
$2.51
$1.00
84

7mmMag

LAPUA
CALL
$0.60
$1.60
$0.05
$1.65
$1.00
85

7mm Ultra Mag

Rem
$1.44
$2.04
$3.04
$0.05
$3.09
$1.00
86

7mm Mag

NORMA
$2.05
$2.65
$3.65
$0.05
$3.70
$1.00
87

7 WBY Mag

Rem
CALL
$0.60
$1.60
$0.05
$1.65
$1.00
88

7 WBY Mag

NORMA
$2.28
$2.88
$3.88
$0.05
$3.93
$1.00
89

7 STW

Rem
$0.96
$1.56
$2.56
$0.05
$2.61
$1.00
90

7 X 57

NORMA
$0.87
$1.47
$2.47
$0.05
$2.52
$1.00
91

7 ULTRA

Rem
$0.92
$1.52
$2.52
$0.05
$2.57
$1.00
92

7mm Win Short Mag

Win
$0.86
$1.46
$2.46
$0.05
$2.51
$1.00
93

7X61 S7H,
7X61 SUPER

NORMA
$1.66
$2.26
$3.26
$0.05
$3.31
$1.00
94

7.62x54R RUSSIAN

NORMA
$1.98
$2.58
$3.58
$0.05
$3.63
$1.00
95

7X65R

NORMA
$2.11
$2.71
$3.71
$0.05
$3.76
$1.00
96

7X57R

NORMA
$1.79
$2.39
$3.39
$0.05
$3.44
$1.00
97

7X64

NORMA
$1.91
$2.51
$3.51
$0.05
$3.56
$1.00
98

7.7 Jap

NORMA
$1.71
$2.31
$3.31
$0.05
$3.36
$1.00
99

30 Carbine

Rem
$0.33
$0.93
$1.93
$0.05
$1.98
$1.00
100

30 Carbine

Win
$0.34
$0.94
$1.94
$0.05
$1.99
$1.00
101
102
103
104
105
106
107
108
109
110
111
112
113
114
115
116
117
118
119
120
121
122
123
124
125
126
127
128
129
130
131
132
133
134
135
520-586-2582 or by email at This e-mail address is being protected from spambots. You need JavaScript enabled to view it .