THE  CLAWS SLING FOR HUNTING RIFLES
At Arizona Ammunition, LLC.® we are always looking to top quality products and  equipment for our shooters.  Floyd Green of the OUTDOORSMANS in Phoenix put us on to this great sling.  All of us that have carried a rifle have fought a sling at one time or another.  We have dropped more than one rifle over the years when the sling cam e loose or slipped off our shoulder too. Well when you try this one the you will find that the fight is over!  The Claw by Quake Industries is an amazing rifle sling.  Take a look at it and as always if you do not like it we will buy it back and pay the return shipping too!  It is great!
OUR GREAT PRICE ON THE "CLAW®" SLING IS $23.95 EACH!
This great sling comes in Black, Brown, Camo, Snow Camo, Sand Camo!
The amazing thing about this great sling is that it fits up close to the front sling swivel stud so that you have the padded part on your shoulder all the time.  It is wide and very non slip too.  It stays in place on your shoulder and remains comfortable even with a heavy rifle. Love it or we will buy it back and pay the return shipping!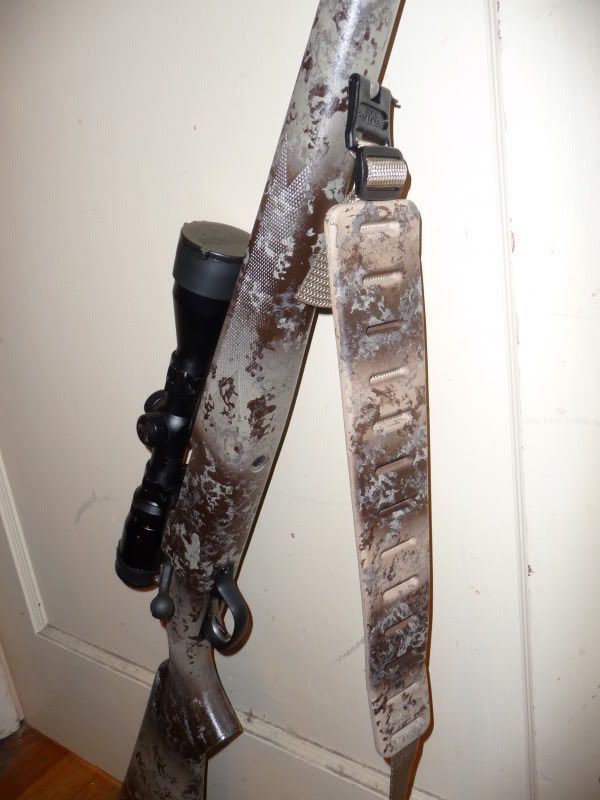 OUR GREAT PRICE ON THE HUSH STALKER II™ IS $39.99 EACH ANY COLOR!
Chose from-
1. Mossy Oak Break-up™

2. Mossy Oak Break-up Infinity™
5. Realtree® Hardwoods Green™ HD
It comes in these great colors too. Pick a color and give one a try.  We bet you will end up putting them on all your rifles and giving them to your hunting friends for Christmas.  They are really great!  Love it or we will buy it back and pay the return shipping! Here are the details from Quake Industries;

PRODUCT DESCRIPTION-THE CLAW RIFLE/SHOTGUN SLING-
ADDITIONAL INFORMATION: The CLAW® Sling System is widely known for having the best non-slip pad incorporated into a sling. The extremely durable and odor resistant pad is molded into the sling webbing to allow approximately 1/2″ of stretch. This stretch spreads the weight of the firearm across the shoulder area greatly increasing your comfort. The unique gripping action of the non-slip pad keeps the firearm in place on your shoulder, eliminating the tugging, rolling and pulling caused by other slings on the market.Hunting in extreme conditions this season? The CLAW® Sling will last as long as you do in anything from miserably hot to arctic cold weather conditions. The pad will remain flexible to -40 degrees fahrenheit and is U.V. stabilized to eliminate fading or cracking. The durable CLAW® Rifle Sling can be used with rifles, shotguns or any firearm with swivel studs mounted on the buttstock and barrel. As an added value, the CLAW® Rifle Sling includes HUSH STALKER II™ QD Metal Sling Swivels. Comfortable to use and easy to clean, the CLAW® Rifle Sling will not hold water like foam, urethane or leather slings.
520-586-2582or by Email at
jschmidt@azammo.com.